16 February 2015
Art project by Anna Paola Cibin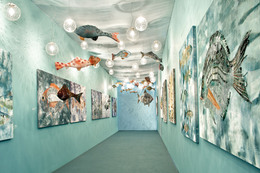 We are glad to announce the collaboration with the artist Anna Paola Cibin, who accepted our invitation to exhibit her work during the conference days in our lovely venue, the Università Cattolica of Milan.
For those who don't know her, here is a brief biography of the artist and the link to her personal website.

Anna Paola Cibin (b.1974, Venice) After studying art with a specialization in weaving, she moved to London where she specialized in fabric design. Upon her return to Venice, she worked with the master glassblowers of the island of Murano for some years. Through this partnership, she learned about the techniques of glass production and the possibilities offered by this material.
Some of her textile designs became part of the company collection of the firm Lorenzo Rubelli s.p.a. Other designs were honored by the Palazzo Mocenigo Textile Museum in Venice and placed in the museum's permanent collection. Since 1997, her interest has focused on an exploration of printing on velvet, a technique that has marked her creative identity. In a very personal and original way, she has reinterpreted the ancient technique for dyeing and printing Venetian tapestries. Each of her white silk velvet, is hand dyed with pigments and precious ancient powders. The surface of the silk velvet becomes magical, tactile and alive, enriched by brilliant colors, gold and silver leaves, glass and Murrine from Murano island. The silk velvet illuminated by natural or artificial light, either direct or diffused, can completely change color, continuosly mutating into a new and surprising work. The colors and glass details appear and disappear depending on the direction from which the tapestry is viewed: what was not grasped at first sight emerges unexpectedly after careful and patient observation, leaving astonished.
Her works have been exhibited in Venice, Milan, Florence, Vienna, Paris, London, Singapore, New York, Eindhoven. In 2009, she created twelve works for Assicurazioni Generali as prizes for the Venice Historical Regatta.
The book, VelvetLagoonVelvet, became part of the permanent library of the Furniture, Textiles and Fashion Department al Victoria & Albert Museum, London.
She can name among her collectors Mr. Pierre Rosenberg, from The Louvre Museum in Paris.